5 WAYS TO ERADICATE PESTS FROM YOUR PREMISES
September 26, 2017
Bradford Council will no longer offer a Pest Control Service but we can help!
January 25, 2018
Here at Premier Pest Control we know bird pests can be a real problem for your business so we provide bird proofing, prevention and removal services. Our aim is to help you get the problem under control.
So how can we help with your bird control problem?
We carry out extensive bird control work for some of the UK's largest building companies, local authorities, facilities managers, NHS, retailers and architects.
We remove pigeons, gulls, starlings and other pest birds and keep you on the right side of the law.  Our bird control team are trained in using all access equipment.
We install bird netting, spike systems, electronic repellents and laser scarers.
We can also remove pest birds using birds of prey that scare birds from buildings rather than harm them.
We clean and remove droppings to make a safer work space for your staff and customers. Our electronic sanitising machines can spray all areas of a building or void, getting to all affected areas to kill harmful bacteria, germs and viruses.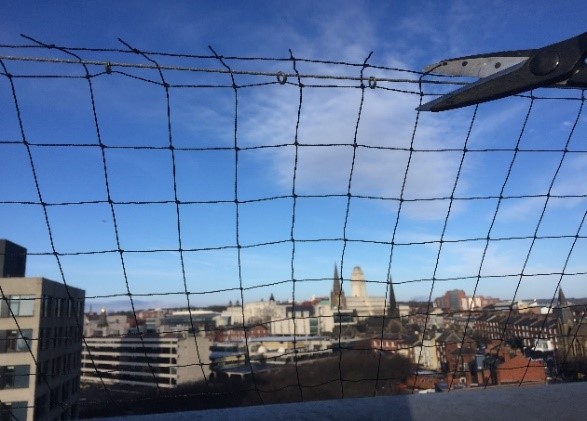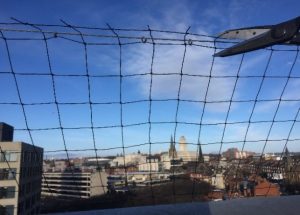 Bird Proofing – Preventing bird pests by using netting
About us:
We are accredited with CHAS, Constructionline, Prompt and the BPCA.
Our surveyors and bird control team travel throughout the UK and Ireland to solve your bird pest problems.
Our prices are ultra-competitive.
We can work unsociable hours to ensure minimum inconvenience to your staff.
For more details, see our website: www.nationalpestcontrol.co.uk
Get in touch:
If you would like to discuss any aspect of bird control or would just like to talk things through, give us a call on Freephone 0800 0935372.