The Mosquito Electronic Reporting System
If you are anything like us, you want all your important information at your fingertips and be able to access them any place, at any time. This is really important when you have Environmental Health or other officials who want to view your records at short notice. You also may have multiple sites and need multiple logins for all your key people.
Mosquito is our unique electronic reporting system that can handle all these requirements. With a reputation for its flexibility, ease of use and reliability, it could well be the answer to your pest control requirements.
Mosquito is chosen by organizations throughout the UK, both large and small, including the NHS, local authorities, national hotel chains and large food manufacturers.
What can Mosquito do for us?
Mosquito is unique to Premier Pest Control Services and allows you to instantly access all your important records, whilst being really easy to use.
That means that wherever you are you can access Mosquito-24 hours a day, 7 days a week.  Our Technicians can connect mobile printers to generate reports but you can also choose a totally paperless system to optimize your green credentials, whilst saving you money on printing costs. 
Access to your records is through our website, via your password protected portal. Our customers all love Mosquito but if there is any aspect that does not work for you, we can quickly change it to suit your needs.
What about Compliance with legislation and Government Officials?
We will help you deal with Environmental Health Officers, Health and Safety and other Government bodies/officials.
If you are involved in the Food or associated Industries, Mosquito is fully compliant with standards such as BRC, SALSA and all the retailer standards.
Trend Analysis is available at the touch of a button. Reports and recommendations can be printed or routed simply and quickly, saving you time and money.
Do you want information at your fingertips?
You can log in at any time and examine your Pest Control record.
This system has been especially created for Premier Pest Control – just for us – and it has been designed to be very simple and user friendly.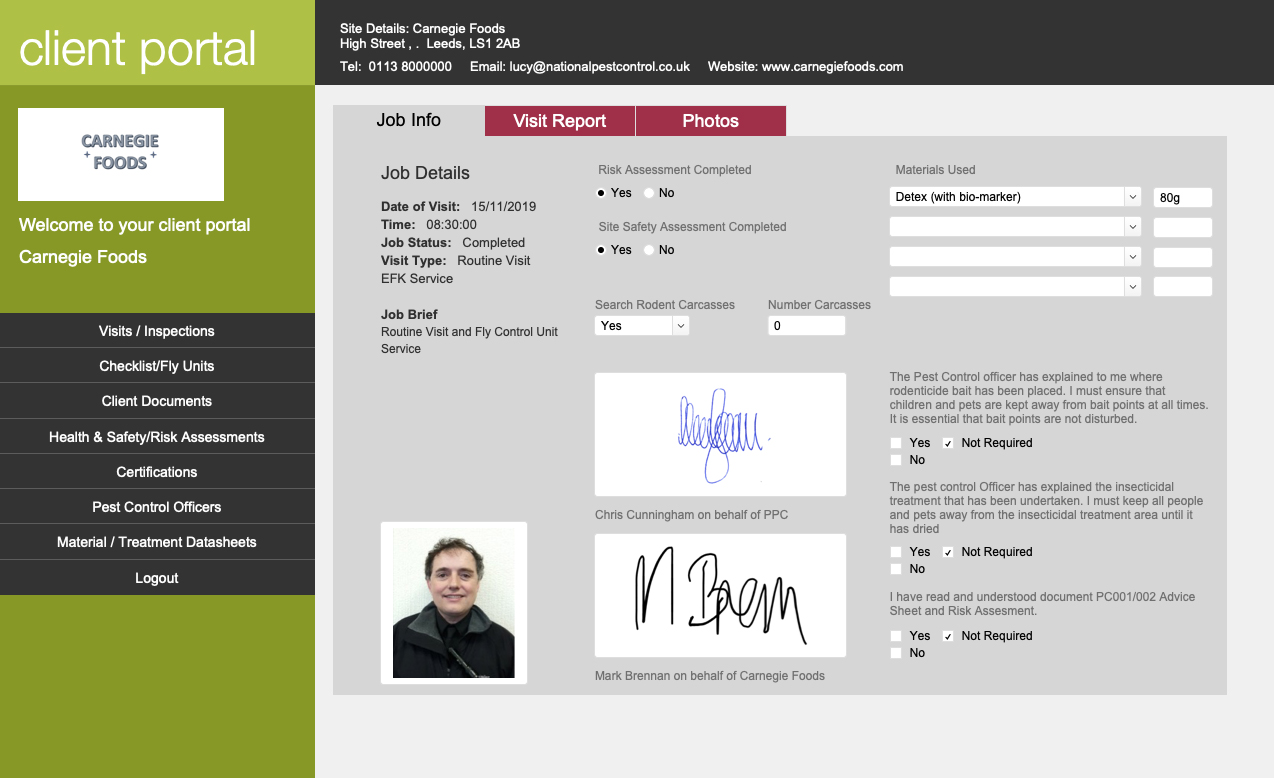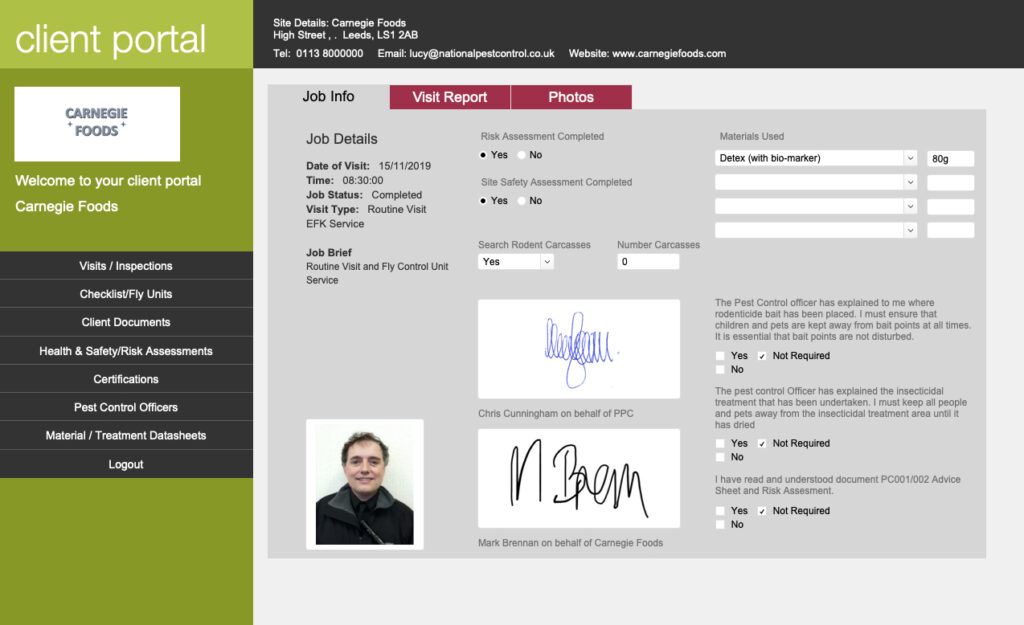 Do you want Instant Reports?
As a customer, you get your reports instantly. Our Technicians input the information into their phone as they are going along.  They then submit it and the report goes straight through to the electronic portal.  When they empty the flycatcher trays, and do a fly count, this builds the graph immediately. So you would log in via the website and access all the information instantly.
You don't need the paper folder anymore as everything can be accessed online.  However, you may not like it if you were being inspected and the internet connection failed!  It would be a serious issue, so most customers have a paper back up, just in case!
You can have the option of a purely online pest control system, both systems or a purely paper system – whatever you want.  So if both systems are required, you are given a unique log-in to access it all online plus we print out the reports there and then (using mobile printers), and it goes straight in the customers file.  We also have customers who just want paper copies and aren't interested in accessing it online. So it is just printed out at the end of the visit.
What information can you get online?
Visits and Inspections – has general details of visits to your premises
Client Documents – has your specification, service schedule, site plan, risk assessment, checklist form completed on each visit, fly control units and trend graph analysis
Health and Safety/Risk Assessments (as shown). Here you will find Premier Pest Control Health and Safety policy and the data sheets that you need.
Certifications from Premier Pest Control
Training Certificates from Premier Pest Control
Misc Documents includes staff ID's of our people who look after your premises (including photos), as well as Pest Identification Charts etc.
Premier Pest Control and Mosquito - your perfect business solution
If you are looking for a reliable pest control company that is small enough to give you a personal service but still large enough to provide 24/7 pest protection or even national coverage, then we Premier Pest Control are the answer.
We always deliver for our customers and never let them down. 

BRC Packaging Factory, England
I am currently employed as Health, Safety, Hygiene and Facilities Manager at a large packaging company based in Scunthorpe, Lincolnshire.
In this and my previous role as Health and Safety manager at a large multi-site Packaging Company throughout England and Scotland, Premier Pest Control Services have provided pest control services to a number of my sites over the past 9 years.
They have provided a range of insect, rodent and bird control systems and importantly, supplied complex documentation to comply with food legislation and environmental health requirements. I have found that they have always been able to provide help and advice to allow us to comply with regulatory and legislative standards.
Their technicians are polite, knowledgeable and helpful. Response times in the event of pest activity have always been first class.
I have found that premier Pest Control Services compare very favorably with other contractors that I have employed, including the large national companies, as they provide a truly personal service.
I would therefore recommend Premier Pest Control services to any organisation requiring a high quality pest control service.
Multi Campus College/University UK
Premier Pest Control Services (PPCS) have been employed by the College to undertake a range of Pest Control Services since 2008. The company are familiar with and understand how to operate within an educational environment.
PPCS are well managed and provide a very responsive and customer focussed service. They are prepared to discuss options to address particular issues and can tailor solutions to meet available resources.
 The College operates out of five main campuses and has other properties within various communities. PPCS have been able to service our requirements and understand our rules for contractors and the level of professionalism that we expect from our service contractors when attending our sites.
I am happy to recommend them to you for pest control services.